RNDr. Michal Pitoňák, Ph.D. / Chairman
Michal Pitoňák studied at the Faculty of Science in the field of social geography at the Charles University in Prague. He is also a qualified biologist (Bc., Mgr.). Currently, he works as a researcher within the National Institute of Mental Health (NUDZ) in Klecany, where he addresses issues of quality of life, mental health and addictive behavior in a non-heterosexual population. He also develops the LGBTQ psychology branch and actively participates in the destigmatization of HIV prevention in the Czech Republic and is a member of the Interdepartmental Coordination Group for HIV / AIDS in the Czech Republic. Michal Pitoňák is also a lecturer at the Department of North American Studies at the Faculty of Social Sciences of Charles University, and externally cooperates with his Department of Social Geography and Regional Development where he teaches the geography of difference, including the geographies of sexualities and queer theory. In general, he tends to employ a transdisciplinary approach to research and teaching and applies knowledge from various disciplines to address highly complex social and health problems.
Email: michal.pitonak@queergeography.cz
Ing. arch. Lukáš Pitoňák / Graphics, IT, webmaster
Co founder of Queer Geography Lukas Pitonak is trained architect from Faculty of architecture at CTU Prague. In QG his job is to make everything prettier. Lukas is a graphic designer, website manager and webdesigner. In his free time he is burried in sci-fi novels and movies or he is drawing futuristic cities.
Bc. et Mgr. Jade MacEwan / Editor, translator, volunteer
ade MacEwan graduated with a Bachelor's degree in Fine Art and German from De Montfort University in the United Kingdom, and has recently completed a Master's degree in Psychology at Leeds Beckett University, as part of which she conducted her main research project on LGBTQ+ psychology. She is self-employed as a translator of German into English, working mainly with business, legal and medical texts. As a member of Queer Geography, her work is mainly focused on writing articles on current LGBTQ+ issues and providing news on LGBTQ+ rights from around the world. She is also involved in the promotion of LGBTQ+ rights and awareness in collaboration with a number of other organisations. In addition to this, her interests include art, politics, her pets and travel.
Mgr. Jolana Navrátilová / Editor, translator, volunteer
Jolana graduated from Sociology and English language and literature at Masaryk University. She has worked in education, research institutions, and as freelance translator (Nyxia trilogy, social science texts). She has volunteered in several NGO projects, e.g. for STUD Brno, NESEHNUTÍ, Gender centre of FSS MU or Queer Parade Brno. She likes sci-fi, medieval history and forest walks. Currently, she is an active member of the MU alumni association and occasionally translates articles for Queer Geography.
Mgr. Františka Jirousová, Ph. D. / Proofreader
Františka Jirousová works at Queer Geography as a volunteer proofreader of some texts. She studied Philosophy at the Faculty of Arts, Charles University, and is mainly interested in the work of Pierre Teilhard de Chardin. She makes her living as an editor of professional literature. In her free time she writes novels (The Exiles, A Very Distant Fire) and philosophical articles. Her Catholic faith leads her to the conviction that the greatest possible diversity is God's intention, and she therefore strives to promote unity in diversity, especially as regards the position of minorities. Themes of LGBTQ and marginalized people appear in her novels, but she also tries to help out with small activities (e.g., just proofreading texts). She is the president of the Farmhouse in the Middle association, which seeks to reconstruct a farmhouse in South Bohemia for the purpose of creative work by artists, students and meetings of non-profit organizations.
Mgr. Jan Morávek, Ph.D. / Translator, proofreader
After his Fulbright year in New York City, Jan obtained a PhD in sociology from Charles University. He researched drug policy and taught at the same institution. These days, he collaborates with social scientists primarily as translator and proofreader of scholarly papers. He also translated articles on current affairs for the Queer Geography website. Following his long-term engagement in environmental protection and human rights, he recently organised audience surveys for Prague Pride. He enjoys comedy in a variety of forms and thanks to Prague's LGBT Book Club, he's been able to read some quality fiction as well. He likes jogging, cooking and caring. Jan dreams of conducting action research in the context of chemsex.
David Popelka / Contributor and author in the queer theory section
David Popelka is studying MA program in Gender, Sexuality, and Culture at the University of Manchester in the United Kingdom with the support of Bakala Foundation. In his studies, he focuses on queer theory and contemporary media targeted at the LGBT+ community. Currently, he is an active member of the Socialist Alternative association at the University of Manchester, where he engages with local issues of modern society.
In addition to these areas, his hobbies include traveling, art, creative writing, visiting museums and galleries, graphic design, working out at the gym, and playing computer games, especially fantasy RPGs with LGBT representation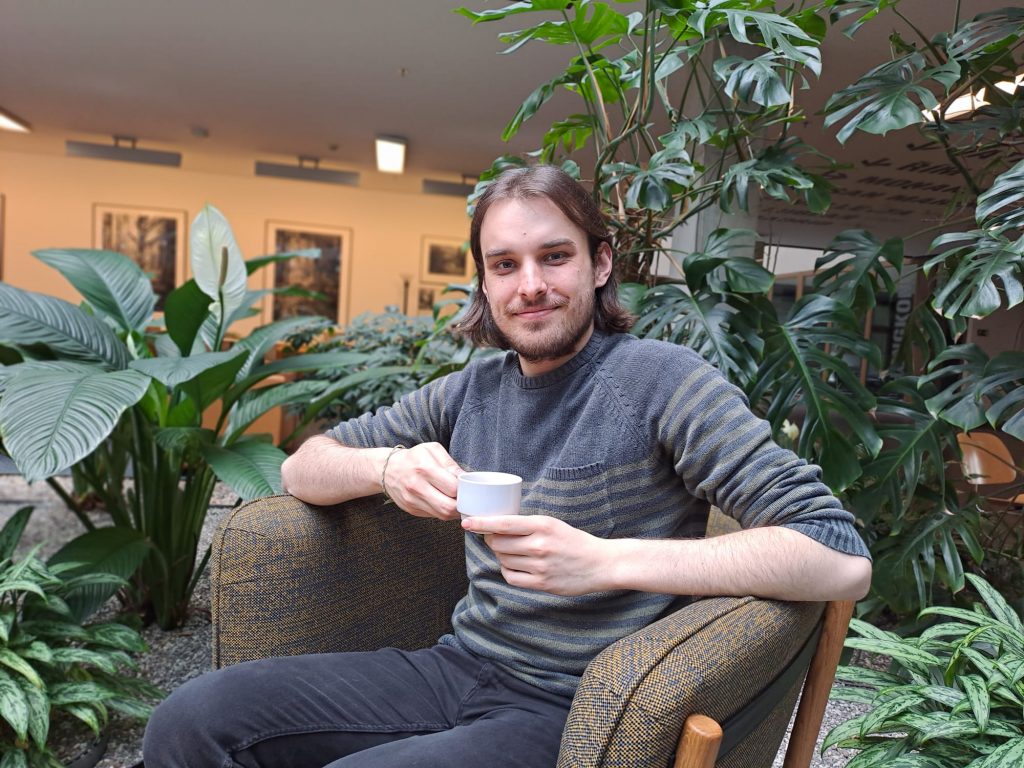 Václav Jehlička
Vašek studies psychology at the Faculty of Arts of Charles University and is a member of the association of psychology students Psyna. In 2021, together with other students, he was instrumental in founding the course Selected Topics in LGBTQ+ Psychology, which is the first in the department to fully address this area. His focus within his studies is on the topics of gender, sexuality, and partner relationships but in addition to these he is also interested in areas such as work psychology, social psychology and addictology. In his spare time, he enjoys travelling, trying out new recipes for his cookbook, reading books or playing computer games and board games with friends. At Queer Geography, he is involved in expanding the LGBTQ+ psychology column and informing the public about scientific findings in the field.
Markéta Matějová
Markéta is studying for a Master's degree in Psychology at the Faculty of Arts at Charles University and has long been interested in LGBTQ+ topics. She was a volunteer for Prague Pride for four years and in 2021, she co-founded the course Selected Topics in LGBTQ+ Psychology at the Department of Psychology. Previously, she worked in an interdisciplinary lab at the Faculty of Mathematics and Physics and at an international HR consulting company. At Queer Geography, she is expanding the topic of LGBTQ+ psychology and workplace equality. In addition to Queer Geography, she is also a member of the Czech Ornithological Society because she considers birdwatching to be the best mindfulness exercise there is. In her spare time, she reads, writes, plays board games and listens to podcasts about politics.
Bc. Jana Kropáčková / Secretary
Jana Kropáčková graduated from the BA in Humanities at Charles University in Prague. She started her career in 2005 and moved its focus towards the administrative area. She has worked in both smaller and larger companies, including J & T and KPMG. In the latter, she currently works until today.